Cherry Cordial Valentine's Day Cupcakes
2014-01-10
Prep Time :

0m

Cook Time :

0m

Ready In :

0m
With Valentines Day soon approaching, will you be baking these for your significant other? I know I will!
INGREDIENTS
Cupcakes:
2 cups sugar
1 and 3/4 cups all-purpose flour
3/4 cup dark cocoa powder
1 and 1/2 teaspoon baking powder
1 and 1/2 teaspoon baking soda
1 teaspoon of salt
2 eggs
1 cup buttermilk
1 teaspoon vanilla extract
1/2 cup vegetable oil
2/3 cup of boiling water
Dark Chocolate Ganache Filling:
8 ounces dark chocolate, chopped
2/3 cup heavy cream
2 Tablespoons light corn syrup
Cordial Cream Filling:
1/2 cup confectioners sugar
4 Tablespoons heavy cream
1 teaspoon maraschino cherry syrup (optional)
Cherry Filling
1 can cherry pie filling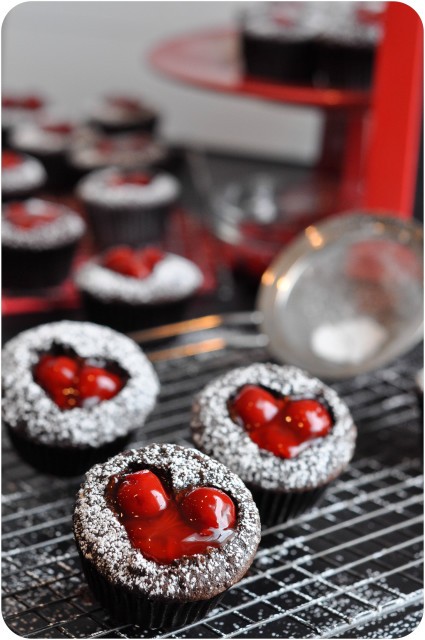 INSTRUCTIONS
Cupcakes:
Preheat oven to 350.
Prepare two 12-cup cupcake tins with paper liners. Set aside.
In the bowl of your electric mixer whisk together your dry ingredients.
Add buttermilk, oil, eggs, vanilla and beat on medium/low speed for 2 minutes.
Stir in boiling water by hand.
Fill cupcake papers 1/2 to 2/3 full, and bake for 18-22 minutes or until a cake tester comes out clean. Do not overbake.
Remove from pans immediately and allow to cool completely on a wire rack before filling.
Ganache filling:
In a small glass bowl, heat cream and corn syrup in microwave until steaming hot but not boiling, about 60 seconds.
Pour chopped chocolate into hot cream, and allow to sit for 60 seconds.
Stir until chocolate is completely melted and smooth.
Refrigerate ganache for 24 hours or until thickened (optional)
Cordial cream:
Combine milk, cherry syrup and confectioners sugar in a small bowl, and stir until well combined and smooth.
Assembly:
Cut a 1-inch deep well out of the top of each cupcake. You can use a small cookie cutter or a sharp paring knife.
Sprinkle confectioners sugar over the top of each cupcake.
Spoon or pipe a dallop of cooled ganache into each well.
Spoon a generous spoonful of cordial cream over the chocolate.
Spoon 1-3 cherries and glaze on the top of each well.
Store in an airtight container for up to 3 days, refrigerated if possible.
Enjoy!